Principal's Felicitation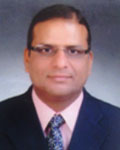 Lord Buddha said the last words to his favourite disciple Ananda- "Be a light in to yourself. Great Torch Bearers but be your own light." He never preached "Follow me."

The Scholars' of The Scholars' ' Arena - 'the would be teachers' do not enter here "To follow." You are joining this prime institute, to invoke the 'light' that exists within your soul & to be your own light when you enter the vast & noble world of teaching profession.

It is indeed my proud privilege to welcome you to The Scholars' ' Arena. Education needs to infuse a liberating consciousness through a genuine authority, which is recognized for superior knowledge, ability, experience & insight. This holds true for The Scholars' ' Arena, which you have opted to join.  Congratulations again. In the present era of post- Modernism, the "Education" must confirm to the country's prevailing scenario. The Scholars' ' Arena endeavors to inculcate, infuse and transpire in would be supporting pillars to wisdom.
This institute endeavors to instill in its pupils a spirit to complex situations and to make the best of each one of them. Here we do not want to produce mere 'Followers' in horde.

You are not merely lucky but particularly blessed to have been assigned to The Scholars' ' Arena, with the most experienced faculty, the best educational facilities and the cogent environment for education. During your stay here, you will experience the perceptions that this great institute holds and stands for, care compassion and commitment. The foremost object of this institute is to carve ideal citizens and good human beings, who would trans form 'IMAGINATION' in to 'REALITY'.

This institute duly encourages merit. To boost competitive encouragement, the institute has declared awards of excellence as -

Rs 5001/- for University Topper
Rs 3001/- for Topper of all colleges in Udaipur Divisions
Rs 2001/- for Topper of The Scholars' ' Arena
Rs 1101/- for II Position at The Scholars' Arena
Rs 501/- for III Position at The Scholars' Arena
Lastly this felicitation shall be incomplete without mentioning that my parents Mrs. Chandrakanta Jain and Mr. B.L. Jain and my wife Mrs. Sharmila Jain have been the real architects of this great institute. Without their efforts the dream of The Scholars' ' Arena could not have come true.
Principal